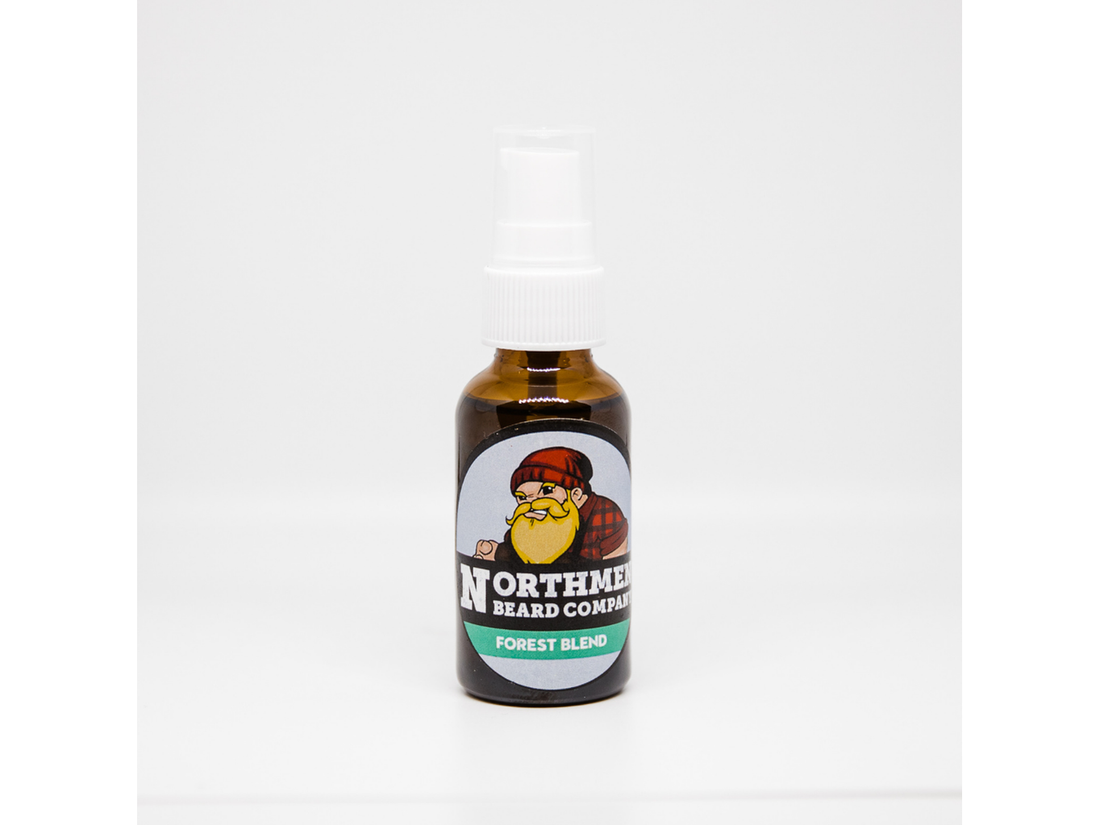 Don't let a rough scratchy beard come between you and your spouse. 
Northmen Beard Co. Forest Beard Oil is specially formulated to hydrate your skin underneath unlike other beard oils which target the hair itself, our game-changing oil targets the hair follicles resulting in significantly softer hair growth. Our blend of organic coconut, argan, jojoba and vitamin E oils is like nothing else on the market, making your beard snuggly soft. Non-greasy, fast absorbing, long lasting and smells great too! 
Pro-tip: When applying Northmen Beard Co. Beard Oil: Focus on working the oil into the skin beneath your beard.
Stocking up on Beard Oil? Save with our 3-Packs.
HOW TO USE IT:
Pump a few drops into your palm and massage the oil into your skin and beard.
Use it daily to maintain a healthy, hydrated, soft and amazing smelling beard. 
HOW MUCH YOU GET:
1oz / 30 ml. Approx 1-1.5 months supply of oil depending on the size of your beard and frequency of use. For daily use, short beards typically use 1 pump, medium typically 2 pumps and longer beards 3-4 pumps depending on preference.  
FRAGRANCE:
A true masculine scent for men who stick to their way despite the challenges they face. Inspired by the forest and suffused with a sense of adventure, the Forest scent combines the fresh, uncompromising air with the unrelenting strength of the trees. It has deep and warm layers with an earthy, woody undertone. So you can enjoy nature, wherever the journey takes you.

STAY SCENT CONSISTENT
Different people have their own ideas about how to smell great, but if we're being honest, there is only one foolproof way to do it, and that is using the same fragrance throughout your daily beard and hair care routine.
Using a mixture of fragrances can cancel each other out and confuse those who catch a whiff of your scent... you may smell worse than when you started.
We've worked hard at Northmen Beard Co to formulate a full line of products for your beard and hair in five amazing fragrances to help keep you "scent consistent" and smelling fine!
BEARD OIL INGREDIENTS:
Organic Coconut Oil, Argan Oil, Jojoba Oil, Vitamin E Oil, Pine Fragrance Oil, Cedar Fragrance Oil, Fir Fragrance Oil, Spruce Fragrance Oil
RETURNS
At Northmen Beard Co. your happiness is important to us, even if the product doesn't work for you. We understand everyone has different skin types, hair types, and fragrance preferences. While we'd love to say our products will work for 100% of the people that buy them, we know that's simply not the case.
If you are not completely satisfied with our products, we want to make it better. If you feel our current product is not working for you, we'll formulate a product that does, and if we can't:  
- We offer full refunds up to 60 days from the date of purchase.
- After 60 days, we can do a refund as store credit.
- Swaps are always free (net the difference in product costs).
USA SHIPPING
Our goal is to ship any orders out by the next day. The average shipping time is two days but varies based on your location (we ship from Tucson, AZ).
Shipping timeframes are not guaranteed and provide a rough estimate for when you will receive your products. Rates are for continental USA only.
- Free Shipping for USA orders over $100
- For orders under $100, Shipping Rates are calculated at check out and offer a variety of standard and premium shipping options. 
INTERNATIONAL SHIPPING
We ship worldwide. All customs and taxes are the responsibility of the buyer. Shipping prices are at market rates and calculated at checkout.