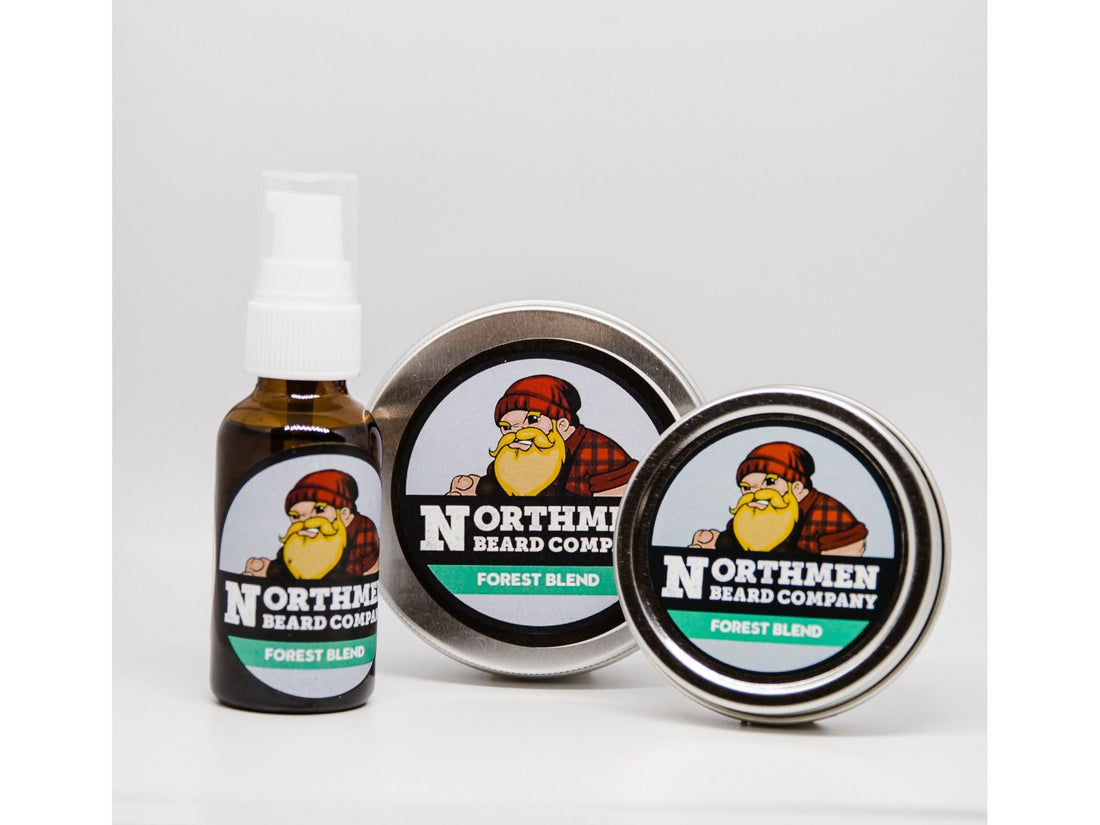 Beard Readiness Bundle Forest
Never have a dry beard day or night ever again

Everything you need for amazing day and night all together beard softening kit making it easy for you to have beard all the time. The Beard Readiness Bundle includes Northmen Beard Co's signature Oil, Balm and Butter - everything you need for an easy everyday day and night routine. 
Pro-tip: Purchase this as a subscription and never be without. We send it to you so you never have to remember to order it again. 
How to Use it: Start with a damp freshly washed beard. Scoop out a pea-sized amount into your hands, rub together and apply to your beard. Focus on the hair ends and allow a few minutes for it to soak in. Rinse or leave it in the day for ultimate softness. 
How Much You Get: 4oz jar. Approx 1-3 month supply of butter depending on the amount and frequency of use. 
Fragrance:
A true masculine scent for men who stick to their way despite the challenges they face. Inspired by the forest and suffused with a sense of adventure, the Forest scent combines the fresh, uncompromising air with the unrelenting strength of the trees. It has deep and warm layers with an earthy, woody undertone. So you can enjoy nature, wherever the journey takes you.

Ingredients:
BEARD + HAIR WASH: Argan Oil, Jojoba Oil, Potassium Oleate, Potassium Cocoate, Glycerin, Potassium Citrate, Citric acid, Eucalyptus Fragrance Oil
HAIR PUTTY: Organic Beeswax, Mango Butter, Coconut Oil, Argan Oil, Jojoba Oil, vitamin E oil, Fragrance Oil
STYLING POMADE:Organic Beeswax, Mango Butter, Coconut Oil, Argan Oil, Jojoba Oil, Fragrance Oil
Fragrance oil is added depending on the scent of the product. Please see individual beard oil listings for the full ingredient list.
RETURNS
At Northmen Beard Co. your happiness is important to us, even if the product doesn't work for you. We understand everyone has different skin types, hair types, and fragrance preferences. While we'd love to say our products will work for 100% of the people that buy them, we know that's simply not the case.
If you are not completely satisfied with our products, we want to make it better. If you feel our current product is not working for you, we'll formulate a product that does, and if we can't:  
- We offer full refunds up to 60 days from the date of purchase.
- After 60 days, we can do a refund as store credit.
- Swaps are always free (net the difference in product costs).
USA SHIPPING
Our goal is to ship any orders out by the next day. The average shipping time is two days but varies based on your location (we ship from Tucson, AZ).
Shipping timeframes are not guaranteed and provide a rough estimate for when you will receive your products. Rates are for continental USA only.
- Free Shipping for USA orders over $100
- For orders under $100, Shipping Rates are calculated at check out and offer a variety of standard and premium shipping options. 
INTERNATIONAL SHIPPING
We ship worldwide. All customs and taxes are the responsibility of the buyer. Shipping prices are at market rates and calculated at checkout.