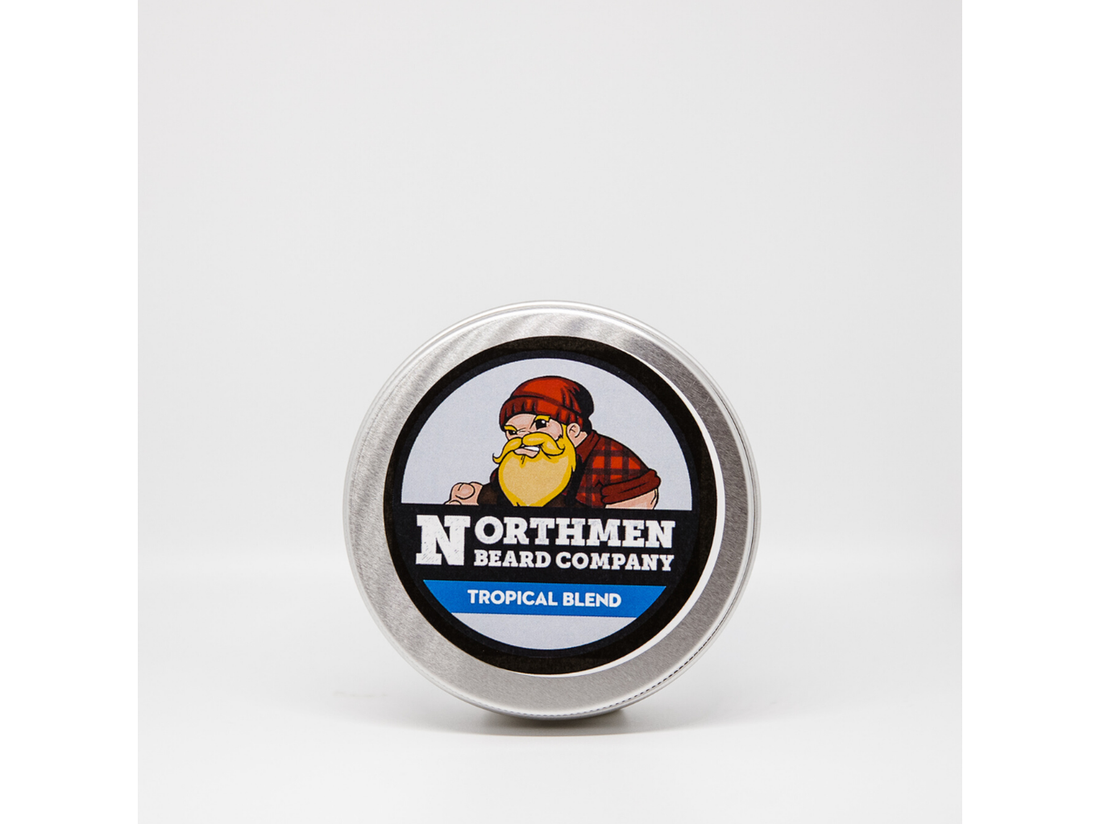 Everyone loves buttery softness 
Northemen Beard Co Beard is the perfect option to manage beard itch. An all-natural beard conditioner works as a deep conditioner to soften, hydrate and moisturize both your beard and skin underneath. The natural buttery smoothness of mango butter absorbs into the bear hair giving a fuller appearance. Apply after Beard Oil in your morning or evening as a "leave-in-conditioner". 
Pro-tip: Apply a small amount of Beard Butter to a damp beard and skip the rinse for the ultimate beard softening. Leave it in and go about your day being soft and smelling great. 
Stocking up on Beard Butter? Save with our 3-Packs.
HOW TO USE IT:
Start with a damp freshly washed beard. Scoop out a pea-sized amount into your hands, rub together and apply to your beard. Focus on the hair ends and allow a few minutes for it to soak in.
Rinse or leave it in the day for ultimate softness. 
HOW MUCH YOU GET:
1oz / 30 ml. Approx 1-1.5 months supply of oil depending on the size of your beard and frequency of use. For daily use, short beards typically use 1 pump, medium typically 2 pumps and longer beards 3-4 pumps depending on preference.  
FRAGRANCE:
Have an enticing scent of paradise all year round. Tropical is a warm blend of coconut, the freshness of papaya and tangy pineapple layers with a hint of exotic mango that conjures up an irresistible warmth and serenity - capturing the charm of an invigorating summer cocktail and memories of sun-splashed days and balmy tropical nights. Perfect for those tropical adventure lovers.

STAY SCENT CONSISTENT
Different people have their own ideas about how to smell great, but if we're being honest, there is only one foolproof way to do it, and that is using the same fragrance throughout your daily beard and hair care routine.
Using a mixture of fragrances can cancel each other out and confuse those who catch a whiff of your scent... you may smell worse than when you started.
We've worked hard at Northmen Beard Co to formulate a full line of products for your beard and hair in five amazing fragrances to help keep you "scent consistent" and smelling fine!
BEARD BUTTER INGREDIENTS:
Mango Butter, Coconut Oil, Argan Oil, Jojoba Oil, Vitamin E oil,Mango Fragrance Oil, Papaya Fragrance Oil, Coconut Fragrance Oil, Pineapple Fragrance Oil

RETURNS
At Northmen Beard Co. your happiness is important to us, even if the product doesn't work for you. We understand everyone has different skin types, hair types, and fragrance preferences. While we'd love to say our products will work for 100% of the people that buy them, we know that's simply not the case.
If you are not completely satisfied with our products, we want to make it better. If you feel our current product is not working for you, we'll formulate a product that does, and if we can't:  
- We offer full refunds up to 60 days from the date of purchase.
- After 60 days, we can do a refund as store credit.
- Swaps are always free (net the difference in product costs).
USA SHIPPING
Our goal is to ship any orders out by the next day. The average shipping time is two days but varies based on your location (we ship from Tucson, AZ).
Shipping timeframes are not guaranteed and provide a rough estimate for when you will receive your products. Rates are for continental USA only.
- Free Shipping for USA orders over $100
- For orders under $100, Shipping Rates are calculated at check out and offer a variety of standard and premium shipping options. 
INTERNATIONAL SHIPPING
We ship worldwide. All customs and taxes are the responsibility of the buyer. Shipping prices are at market rates and calculated at checkout.