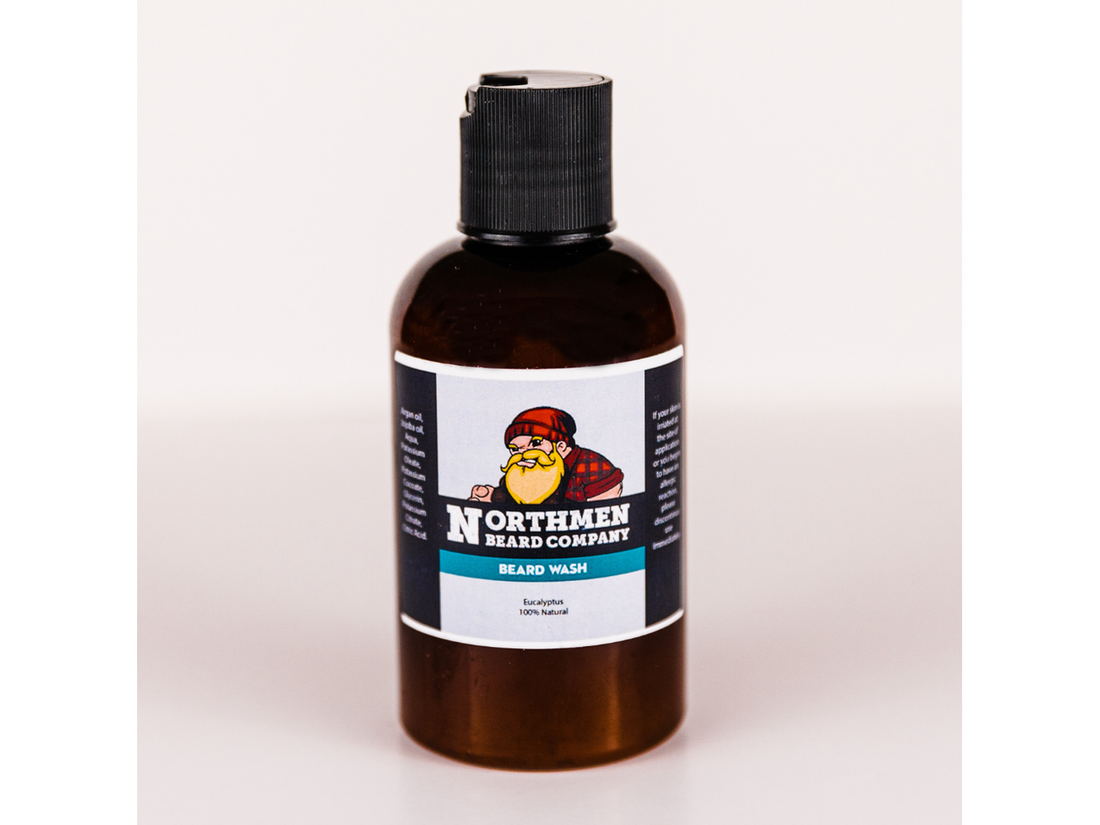 Dirty Scratchy Beards Get No Love 
Don't let a dirty beard get between you and your spouse. Keep your beard kissably fresh and bacteria free with Northmen Beard Co. Beard + Hair Wash. Formulated with all natural ingredients - no harsh cleaners - to penetrate and moisturize your skin and hair. Gentle foaming suds work to dislodge dirt, grease and bacteria while softening and moisturizing. No more itchy, scratchy and uncomfortable beards. Also great for head hair shampoo. 
Pro-tip: How often you wash your beard depends on your skin type, but we generally recommend two to three times per week. 
How to Use it: Use in the shower on wet beard or hair. Squeeze a dime-sized amount of Beard Wash into your hands, lather and apply to your beard and head. Focus on the skin and roots, then work down to the ends. Rinse. Follow-up with Beard Butter. 
How Much You Get: 6oz bottle. Approx 1 month supply of wash depending on the amount and frequency of use. 
Only available in Eucalyptus Scent. 
Fragrance:
Only available in Eucalyptus Scent.
Ingredients:
Argan Oil, Jojoba Oil, Potassium Oleate, Potassium Cocoate, Glycerin, Potassium Citrate, Citric acid
RETURNS
At Northmen Beard Co. your happiness is important to us, even if the product doesn't work for you. We understand everyone has different skin types, hair types, and fragrance preferences. While we'd love to say our products will work for 100% of the people that buy them, we know that's simply not the case.
If you are not completely satisfied with our products, we want to make it better. If you feel our current product is not working for you, we'll formulate a product that does, and if we can't:  
- We offer full refunds up to 60 days from the date of purchase.
- After 60 days, we can do a refund as store credit.
- Swaps are always free (net the difference in product costs).
USA SHIPPING
Our goal is to ship any orders out by the next day. The average shipping time is two days but varies based on your location (we ship from Tucson, AZ).
Shipping timeframes are not guaranteed and provide a rough estimate for when you will receive your products. Rates are for continental USA only.
- Free Shipping for USA orders over $100
- For orders under $100, Shipping Rates are calculated at check out and offer a variety of standard and premium shipping options. 
INTERNATIONAL SHIPPING
We ship worldwide. All customs and taxes are the responsibility of the buyer. Shipping prices are at market rates and calculated at checkout.